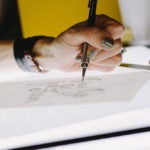 Beyond The Blog
Written content is found everywhere, from blogs to subtitles, and is found absolutely everywhere. Here, we are going to talk when written content meets graphic design. Your goal is to catch attention on social media, and graphics are a great way to do it.
Infographics
Benefits: Infographics are a fun way to show what you mean, instead of just saying it or writing it down. We use infographics to explain what things are, give tips, and show their benefits. We're making an infographic of the Takeaways at the end of this article, to give you an idea.
Channels: Facebook, Pinterest, Twitter, LinkedIn, Instagram. There are lots of options here, especially if you create a couple versions of your infographic to fit in the different layout requirements of these channels.
Drawbacks: Infographics take time. They also take graphic designers. Of course, there are sites that let you make your own infographics, but having a graphic designer is usually better.
AD GRAPHICS
Benefits: By graphics, I mean images that consist of text. If you check out our social media, at Pixel506, you'll see what I'm talking about. We use graphics as ads to promote an article, service, or benefit we offer. There are infinite ways to imagine these graphics, so you and your clients will never get bored.
Channels: The same channels as for Infographics. Just make sure you pay attention to the format and size required by each channel.
Drawbacks: The drawbacks here are basically the same as with infographics. These guys take some time to make, and it's hard to tell if people are reading them since they don't have counters like blog articles do, and often people don't need to click on them to see them.
Gifs
Benefits: GIFS are great because they move and literally reach out and grab your audience's attention. You can use GIFs to play with numbers, like statistics or percentages. If your brand is geared towards younger, modern audiences, you can play with emotions with GIFs. If you want to catch attention on social media, GIFs are a great way to do it.
Channels: Instagram, Facebook, Twitter. Just make sure you've used a platform, like GIPHY, to create the GIF so that the movement works well.
Drawbacks: Make sure your internet is good enough for your target audience so that GIFs don't get stuck.
Don't Have The Resources For This?
This kind of project takes resources. You need people who can write and people who can design digital graphics. Some people can do both, but those people are few and far between. If you are interested in this kind of strategy, but don't have one or all of these resources, we can help you out!
We can handle your graphic advertising strategy. We also routinely lend team members to fulfill one resource. Maybe you have a designer but not a good copywriter. Or maybe you have the right message, but no one to turn it into a graphic.
Let us know. Let's get started.
How To Catch Attention On Social Media:
Infographics: Fun and catchy. Use for explanations, definitions, and comparisons.
Ad Graphics: Endless creative possibility. Use for ads and promotions.
GIFS: Entertaining and unique. Use for statistics, fun messages, and to show emotions.
Our free PDF includes everything you need to know about nearshoring.
Our free PDF includes everything you need to know about nearshoring.
Share On