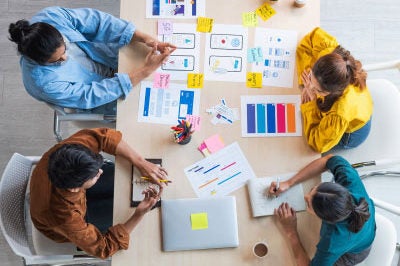 "Oh, I love that product, can´t live without it, or love that brand, it's my favorite!" Sound familiar? Well, it's called brand loyalty and it's extremely profitable if we know how to take advantage of it.
Companies should implement better strategies to encourage brand loyalty because it seems getting users to continually buy from your business and revisit your site is a real challenge. Unfortunately, companies make the fatal mistake of deprioritizing UX activities, when they initiate a new digital product or process.
Building a website requires attention to detail and an appreciation of what is important for users in their interactions and all these needs can often catch inexperienced website designers or teams unprepared.
In the UI/UX marketplace, you can find friendly tools and processes with solutions that can improve not only your interface but the user experience on your website or mobile app. We're sharing some of these tools here and the process we highly recommend. By the way, your design team, developers and future users will thank you for reading.
Now, why use tools for UX/UI? Easy. Because they will always play a key role in making users happy and increasing your site's conversions.
Conversions, Conversions…
According to https://designadvisor.net/blog/ux-statistics/ intentional and strategic user experience has the potential to raise conversion rates by as much as 400%. We always recommend companies to develop and invest in UI/UX design services that speed up the design process, prevent crack-ups from happening, and guarantee good user experience.
But what exactly does that mean, and where do you start?
Well, first there are healthy steps for the product design process that your company may want to consider and there are also tools that can enhance your services as well.
Let's start with the product design process we use at Pixel506. It's based on 4 phases, which may vary according to the customer's specific needs.
Product Design Process
The UX methodology consists of 4 stages that meet specific objectives:
PHASE 1-Discovery: In this phase, we need to learn all the information related to the product, so we will focus on the client objectives and needs determining the UX metrics and the methods we will need to use, such as:
Benchmarking: is all about looking at the competition within the industry, their weak spots, best practices and opportunities to stand out with a new product to enhance efficiency, improve performance and help them become a bigger player in their industry.
Interviews: with the stakeholders and users.
Focus group: Brainstorming / Card sorting / Creative dynamics with participants.
User personas: a fictional representation of your ideal customer so you can understand who will be using the product, Whether you're developing a smartphone app or a mobile-responsive website.
PHASE 2- Explore: In this part of the process, the information generated from the previous phase is used. The data is converted into an effective product design.
Some of the methods we use during this phase are:
Persona profiles, user journey, use case, and user flows in order to consider different contexts, social implications and to give the user control to prevent errors.
PHASE 3- Create: Basically this is how a website is structured. Users and companies want a well-designed, easy to navigate solution that respects users time and generates conversion.
In this phase, the construction of a product prototype is initiated, taking into consideration the insights obtained in phases 1 and 2.
Our objectives are based on our user's needs, our user's mental model and the creation of a structure. We accomplish this through different methods like:
Design Principles (as a strategy to solve a design challenge)
Information Architecture (IA)
Interaction Patterns
Wireframing
Low -Fidelity Prototyping
High-Fidelity Prototyping
PHASE 4- Testing: During the testing phase, we take into account efficiency and effectiveness, error prevention, and consistency in navigation, so the site fulfills the user's needs. The objectives during this phase are Testing for usability errors, and including different users to determine what works and what doesn't.
In this phase, we use methods like usability evaluation, heuristic principles, and user tests.
70% of projects fail due to lack of user acceptance, so it is simply good business practices to invest in UX/UI processes to avoid inconveniences and botched projects. With that being said, let's go back to conversions and visit some of the great tools available on the market that your design and development team will love using to improve UX and increase brand loyalty!
Effective Ux/Ui Tools
Figma
Our team in the office loves it. Figma is a web-based, collaborative wireframing and interfaces design tool. It is recommended for people who want to do interactive prototypes and mockups, and who communicate their designs with management, developers or clients as an interactive presentation. It's intuitive and easy to work with other designers in the same document and developers can grab the code out from the applications.
Figma uses prototype code, HTML, CSS.
You can edit, copy or comment on elements. https://www.figma.com/
Sketch
It's a digital design app for Mac for UI, mobile, and web that can be used for prototyping and wireframing. Think of it as a combination of Photoshop and Illustrator.
Sketch is a vector-based app which means that every shape you draw can be resized to any dimension without losing sharpness. Sketch offers amazing high-quality rendering and is pretty lightweight to run. It's easy to use, plus it saves time. https://www.sketch.com/
UXPin
It's a prototyping tool that creates everything from well-planned wireframes to high-fidelity prototypes and interfaces with conditional interactions and variables. UXPin stimulates team collaboration as it shares information and specifications.
Project information, documentation, design assets, components, and code snippets are kept in the Cloud. http://bit.ly/2OKP5dO
If you are looking for a free tool for your commercial projects, this could be the answer! Interfacer offers high-quality design aids and elements: fonts, mockups, illustrations, templates of all types, and even UI kits. https://interfacer.xyz/
This front-end feature-building tool enables teams to work together to create front-end features for a website or app quickly, economically, and without fuss. Mason provides an easy system for managing extensive libraries of front-end experiences teams create. Mason eliminates any need for prototyping tools, QA inspections, and excess documentation. Team developers love it!
Prototyping, collaboration, and workflow tool. Created for designers, by designers. You can present updates to authentic clients cause it allows sharing mockups 'live' making collaboration really easy. Very useful!
There are indeed many more tools available, these are just a few references to start you on your UI/UX research and help you choose the right tool for your company or your team.
These tools can change your business or brand for good, so having the right resources on hand could make all the difference.
According to statistics, every $1 invested in UX results in a return between $2 and $100.
It´s worth it!
About Pixel506
Pixel506 is a creative content and digital marketing agency. We help you with your digital marketing strategy by creating quality content that is integral to your industry and directed at your target audience based on user research. Our content marketing efforts improve brand positioning, increase leads, and boost conversion.
Our free report can help you boosting your sales.
Our free report can help you boosting your sales.
Share On