UI/UX Design Is What We're Good At.
And We'll Make Your Business Good at It, Too.
Don't let your design hold you back. Let our creative vision and technical expertise craft solutions that create positive value for your users.
Exceed your customer expectations with Pixel506's intuitive UI/UX Design
Our Partner Logos
Pixel506 is an award-winning digital agency providing research, design, prototyping, testing, and implementation services for your UI/UX design projects.
We keep you ahead of your competition without losing track of your primary business goals. Our experience means that your project will be in safe hands from start to finish.
Creative talents who think outside the box
Work with experienced professionals whose values and practices align with your company's vision and strategy.
Personal attention that goes beyond your expectations
Enjoy personal attention, responsiveness, effective communication, and commitment to customer satisfaction.
Innovative solutions that surprise your users (and competitors)
Receive intelligent solutions that are tailored to your unique requirements and your customer's ever-changing demands.
Brands we've helped grow
Over the years, we've been privileged to help many businesses achieve their goals and create an impact in the digital landscape.
UI/UX Design And Development Services
Pixel506 is a one-stop digital marketing solutions agency. When you choose to work with us, there's no need for multiple vendors and contracts. We provide a full range of customized solutions and services.
UX Research
Ensure that your product, design, and brand identity resonate with your target audiences.
UI/UX Design Services
Be confident that your user interface/user experience design are based on customers' needs.
UI/UX Design and Development Services
Be confident that your user interface and user experience are intuitive, user-friendly, and effective.
Mobile UI/UX Design Services
Provide a mobile experience that feels intuitive and encourages repeat usage.
UI/UX Testing Services
Ensure that your users have a world class experience on all platforms and devices.
UI/UX Prototyping
Generate engagement and tangible results through extensive prototyping and personas.
Branding and Identity
Reflect your brand promise, match customer expectations, and highlight your unique features.
Not sure if we can help you with your project?
Speak to an expert today about how Pixel506 can ignite your business vision.
Pixel506's Proven 4-Step Process
Ready to let your design do the talking? Our 4-phase proven process will set you up for success.
Discovery
First, we want to hear from you so we can learn more about your business, industry, competitors, and ideal target audiences.
Exploration
Now that we have a clear understanding of your needs, the ball is in our court. We lay the groundwork, map out a strategy, and develop the actions needed to execute that strategy.
Creation
This is when we really get to shine. We let our creativity run wild, provide you with custom designs tailored to your specific needs and budget, and collaborate on revisions.
Optimization
Our commitment doesn't end once our solution goes live. We believe that there is always room for improvement and refinement to maximize performance.
Take Your Productivity and Creativity to The Next Level 
Forget about further increasing the workload of your staff or hiring and training new employees. When you choose to work with Pixel506, we'll expand your team through specialized recruitment.
Our marketing professionals become an extension of your internal team. Plus, you can easily scale your external team up and down depending on your project needs.
Delivery Teams
Does your project require extra hands? Let us provide you with a temporary team with the right skills and experience. During the course of your project, your delivery team will attend your virtual meetings, report directly to your managers, and work with your internal team to deliver a high-quality solution that is tailored to your needs.
Why Choose Pixel506, a 10Pearls Company?
The digital space moves quickly; we keep up for you. You can use our services for certain parts of your project, or you can leave your project in our hands, from planning to launching and optimizing. You can be as involved or as hands-off as you want to be.
Some reasons why companies choose Pixel506:
High-
performing delivery and dedicated teams.
Teams
are formed, onboarded, and integrated in days.
Professional
approach and personal attention.
McDermott Will & Emery
We helped build an award-winning new website platform and branding strategy for McDermott Will & Emery, which won 1st Place in the AMLAW Global 50 Websites.
Read more →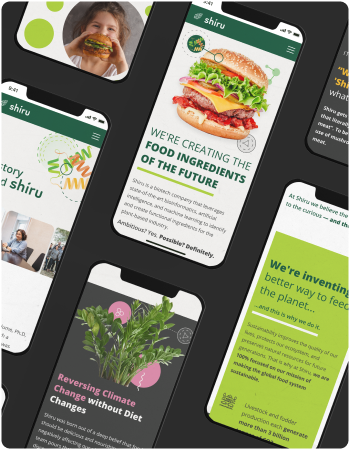 Shiru
We brought all the right ingredients to cook up an attractive, intuitive website for biotech startup Shiru, that not only reflects their mission but attracts the right audiences.
Read more →
We are grateful for our client's trust and loyalty, and we take great pride in delivering high-quality UI/UX solutions that exceed their expectations. Here is what some of our clients have to say about us.
"I love the full-service support that Pixel506 provides. It was great to have a full team to support us in everything; from copy to design to SEO to brainstorming."
frequently asked questions
We understand that you might have some questions before investing in user interface and user experience services. We've compiled the most common questions we get asked about our services.
What designs do you typically create?
What are the steps in your UI/UX design process?
How can Pixel506 help me create a desired user behavior?
How much does UI/UX design cost?
Why should I choose Pixel506 as my UI/UX partner?
What are Pixel506's policies regarding intellectual property and confidential information?
How does Pixel506 recruit and maintain talent?
Who will be my main point of contact?
What kind of clients does Pixel506 work with?
We stay Up-To-Date with UI/UX trends so you don't have to
No need to be modest here; our UI/UX services are the ideal way to position your brand in a positive light, exceed customer expectations, and leave your competition in the dust. We handle time-consuming processes such as selection, legal contracts, and payments, so that your time is spent on what matters most—running your business.
Elevate your brand's digital presence and enhance user engagement by leveraging Pixel506's cutting-edge UI/UX solutions.